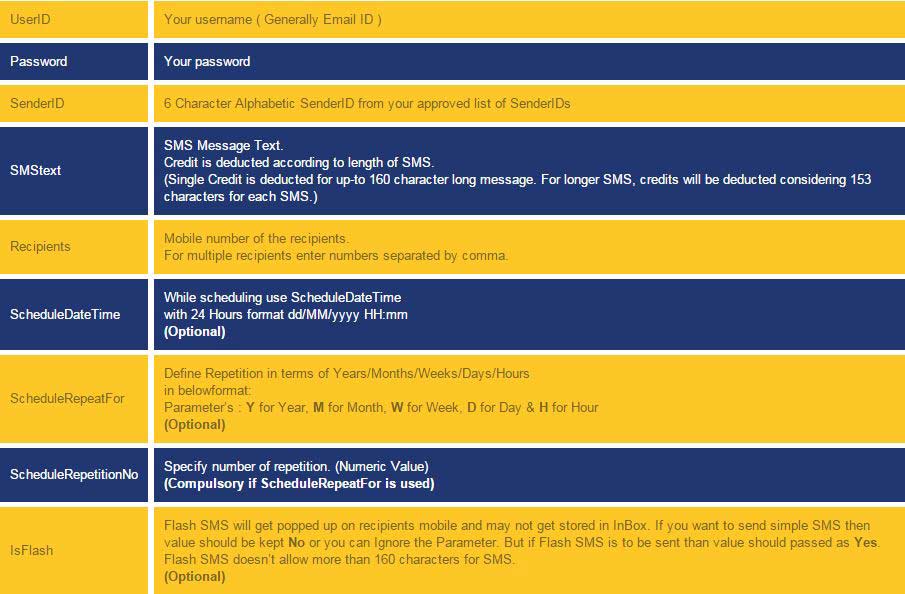 Note: The SenderID refers to the Alphanumeric Identity of the Sender. For all SMS sent SenderID of maximum 6 characters is allowed if SMS is of Transactional category. You can use only Alphabets without space or special characters. You can customize your own unique SenderID for all Transactional SMS messages you send. The SenderID needs to get approved before using. For Promotional SMS, random numeric SenderID will appear.
For Flash SMS if isflash value is "Yes", sms will be submitted as Flash SMS. If XML Tag related to Flash SMS is not used / submitted, SMS will be treated as simple SMS.
Scheduling parameters are optional. If you use ScheduleDateTime, SMS will get scheduled as per parameter passed. You can also repeat your schedule by using ScheduleRepeateFor parameter as described above and can even pass number of repeats using ScheduleRepetitionNo.